"I Dreamed Your Utopia" an installation by Gyun Hur


PREVIEW OPENING RECEPTION - Friday Night June 17, 2011 6 - 8pm at the Hotel Florence

MAIN OPENING - Saturday June 18, 2011 - BOTH mosnart and the Hotel Florence will celebrate the installation in conjunction with the Pullman Garden Walk 10am - 4pm

CHECK OUT OUR FACEBOOK PAGE for updates and in-progress photo's http://www.facebook.com/mosnart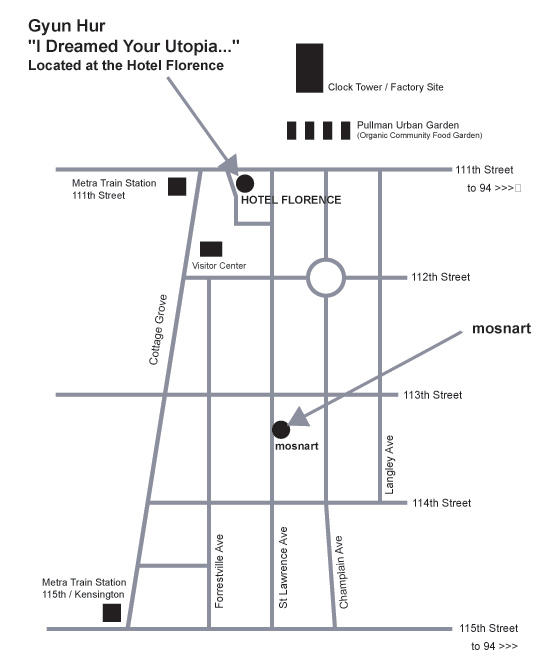 I Dreamed Your Utopia...

Narratives of memory, place, and labor are vital elements in Gyun Hur's construction of a visual and psychological space. Through the menial and laborious process of making, selective collections of silk flowers transform into a poignant residuum of the past and the present. In this project, I Dreamed Your Utopia, Hur continues her series of intricate re-appropriated silk flower installations. Collected silk flowers are disassembled and hand-shredded by the artist and a community of people around her. The pattern produced by a labor-intensive installation references the artist's mother's wedding blanket. The artist's methodical destruction and reassembly of the silk flowers create an introspective site, transforming the space into a place where internal memories and fascination lie. Hur carefully responds to the place Pullman where people have lived, worked, and dreamed of their utopia. With an affirmation of the labor, I Dreamed Your Utopia searches for impermanent, yet resilient residue of the lost history.

Bio:

Gyun Hur received her MFA in Sculpture from the Savannah College of Art and Design and BFA in Painting from the University of Georgia. The artist has performed and exhibited in Atlanta, New York City, Chicago, Seattle, and Vermont. Gyun completed New York City residency through Elizabeth's Foundation for the Arts in Spring 2009. She received Joan Mitchell Foundation Scholarship for Ox-Bow Artist-in-Residence program and attended an artist residency at Virginia Center for the Creative Arts in Amherst, Virginia in 2010. She exhibited her work at SCAD Hong Kong in April 2011. She is the finalist for the Hudgens Prize. Later this year, she will have solo exhibitions with Jacueline Casey Hudgens Center for the Arts in Duluth.

More info:

Mosnart, The Historic Pullman Garden Club, The State Historic Site and the Pullman Community are privileged to host artist Gyun Hur (Atlanta, GA) and her installation titled: "I Dreamed Your Utopia" at Pullman's famed Hotel Florence.

"I Dreamed Your Utopia" coincides with the 17th Annual Pullman Garden Walk on Saturday June 18th, 2011, 10 am - 4 pm (The installation is FREE and open to the public. The Pullman Garden Walk requires tickets - $12 advance/$15 at the door, advance tickets are available by calling 773-568-2441. Proceeds from the garden walk ticket sales support many ongoing projects in the Pullman Community. The HPGC is a 501(c)3 NFP.

The Hotel Florence is located at 11111 S. Forrestville Avenue, Chicago, IL 60628 Tel: 773.660.2341 in the Pullman Historic District on the far south side of Chicago. Free street parking or take the metra electric train.



A short film by Flux Film documenting Gyun's work.





installation images >


Links:

Gyun Hur (artist website): http://gyunhur.com




Special thanks to:

Linda
Mike
Hotel Florence
Pullman Garden Club
Amy
Carl & Dee
Arthur & Sonia
Jane, Bob, Laura
Beverly
Kate
Jennifer
Sherry


and of course our mosnart artist Gyun and her crew.