HERE HERE - a celebration of here, here.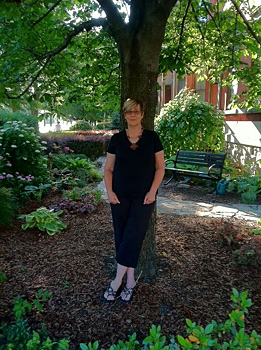 Linda Bullen

Pullman resident since 1999

I was born and raised in Chicago, living on the North Side and in the Northern suburbs until 15 years ago when my husband and I moved to the Pullman Historic District. Here we found a charming, picturesque village in the City, neighborly and with somewhat eccentric folk, wetlands surrounded by the remnants of industry, quaint and artsy Indiana and Michigan towns and plenty of parking. In short, new sights, smells, sounds, and inspirations.

I attended the School of the Art Institute for my BFA (1970) and my MFA (1995). After years absorbed with Morris dancing, playing southern French music and raising my two wonderful children I found myself as Curator at the Pullman State Historic Site, a job that has provided plenty of opportunities for creativity! From about age7 I was taught sewing, knitting, crocheting, and beading by my favorite aunt and my paternal grandmother. So I feel almost as though I have always created textile objects, both hand and machine made.

Since 2008 my art form has been the folk tradition of penny rugs, a form of textile art dating back at least to the Civil War. I began to collect images of traditional rugs from magazines, often pieces that were in private collections. I was fascinated with their use of color, texture, size and shape. While I pay homage to the root of all penny rug designs through the use of layered circles, I have no desire to duplicate traditional designs in either form or color. My intention is to expand traditional forms and create new ones. I continue to explore new formats and directions with shape, texture, and embellishment.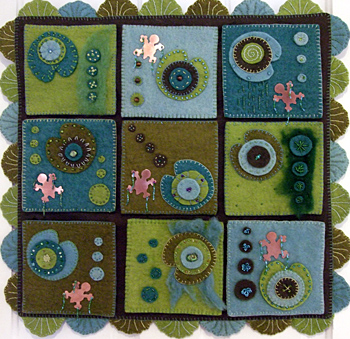 "The Journey II", 2014