HERE HERE - a celebration of here, here.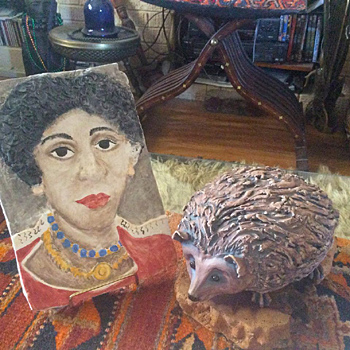 "Title after Egyptian mummy portrait from the Roman period", 2013 (left)
"Spiky on the Outside, Soft on the Inside" 2013 (right)


Lorraine Christmas Brochu

Pullman resident since 1989

Lorraine's training as a Near Eastern archaeologist taught her appreciation of the deep human need to individualize both the practical and the fanciful artifact. It is this love of whimsy that she particularly enjoys incorporating into her clay art, using sculptural details with both hand-built and wheel-thrown techniques to create more-or-less useful objects. While one might argue that instruction in this medium began in kindergarten, it truly developed several years ago with classes in the Hyde Park Art Center and continued under the tutelage of Pullman potter Dee Smith.

The hedgehog dish included here is high-fired and stained with iron oxide at cone 6. The tile, after a Roman period mummy portrait from Egypt's Fayum region, employs underglazes and fired only to cone 06 to retain the vivid colors.