HERE HERE - a celebration of here, here.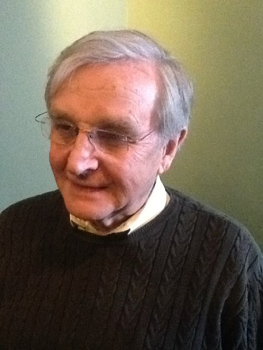 Mike Shymanski

Pullman resident since 1967

Mike Shymanski...architect - urban planner

I moved to Pullman in 1967 with my wife Pat while I was completing a professional degree in architecture and a master of science degree in city and regional planning. With a forty year career as a licensed architect I have developed a fairly well trained eye for art and design and periodically have expressed my thoughts and impressions through various art forms. I love photography and have documented Pullmanís progression over the years. I find chip carving an interesting hobby (although Pat does not appreciate the little wood chips) and occasionally I try my hand at painting. For this event I am showing a painting I did in 1967 - Calumet Sun Rise 1967.

In the late 1960s , the steel industry was booming. Illinois high sulfur coal was being used and the oil and chemical industry were in full production and the City incinerator was partially burning garbage and letting it smolder east of the expressway. Calumet Sun Rise 1967 is my impression of that time. Hidden in the darkness of smoke and dust is wailing human figure. (acrylic on plywood) The piece is framed in wood lath from the first Pullman house which we rehabbed in the early 70ís.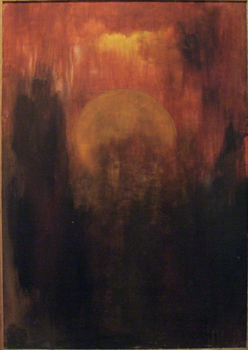 "Calumet Sun Rise", 1967