Anna Paskevska


BIO: My training experience encompasses several diverse styles.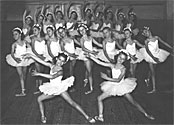 I began dancing with Olga Preobrajenskaya at the age of 9 years old. She was greatly influenced by Enrico Cecchetti, even though she was a product of the Imperial Russian Ballet and studied with the master rather late in her career. After two years with Preo, I was enrolled at the Paris Opera School, where a generic French style was taught at the time (late 1940ís into the early 1950ís). However, I continued to attend Preoís classes as well as studying with Serge Peretti and Madame Rousanne.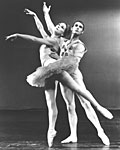 At age 15, I made a short sojourn at the Legat School in England. The teachers ranged in style from old Russian (Lydia Kyasht) to Soviet- influenced (Leonid Prorwitch). Madame Legat is generally cited as teaching her husbandís system. When I later studied with Cleo Nordi, I realized that my understanding of Legat, to that point, was rather superficial. My education in classical ballet was concluded at the Royal Ballet School with English-trained teachers and classes with Cleo Nordi.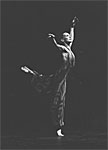 As an adult, I ventured into modern dance; first, at the Graham School with Bertram Ross; then with James May who taught the Limon technique; and finally with Paul Sanasardo. The exposure to modern dance reshaped my understanding of classical ballet and led me to appreciate its underpinnings. I then was able to recognize the import of the classical training vocabulary before stylistic differences affected its execution. In other words, my focus shifted from the steps of the vocabulary to the meaning of the steps in terms of their impact on our physicality.

My teaching is informed by the totality of my experience, although I rely primarily on Legatís precepts as taught by Cleo Nordi. This is a system of educating the body and mind that optimizes the bodyís ability to move and the mindís ability to discover the logic within motions. Classical ballet can then be understood in terms of its dynamics and physics, avoiding dogma, thus recognizing it as a living, and evolving art form. This approach acknowledges both the range of motion available to us and the relationship with the space in which we move. The systemís most salient features are the recognition of gravityís impact on motion and the inclusion of the potential of the spine to spiral expressed in the use of ťpaulement.

My performing experience includes participating, as a child, in the repertoire of the Paris Opera, and briefly with the Royal Ballet before joining Western Theatre Ballet and, encompasses work for British television, stage, and film.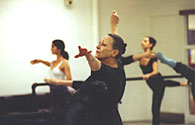 I have been teaching ballet since 1966 in a variety of circumstances, in the private sector, as well as professional schools and universities. Currently, I am on the faculty of The Chicago Academy for the Arts and Columbia College. I am also currently directing The Dance Teaching Initiates, funded by the Chicago Community Trust. The teaching has led me to questions the precepts of the classical technique and grew into a need to express and share my discoveries.

In 1981, I wrote Both Sides of the Mirror, in response to my perception that the students I taught at Indiana University had very little if any idea about the more advanced principles of the classical technique. In other words, my students did not know why they were doing what they were doing and how barre exercises served the vocabulary. Alignment was a quaint notion and ťpaulement was what you did with the head. Both Sides of the Mirror, twenty years after its publication is still used as text in universities. It was followed by three more books: From the First Pliť to Mastery, an Eight Year Course (1991, reprinted by Routledge Press in 2002), Getting Started in Ballet, A Parentís Guide to Dance Education (1997, Oxford University Press), Ballet, Beyond Tradition: The Role of Concepts of Motion in Ballet Technique (due to be published in October of 2004, Routledge Press)





PROFESSIONAL TRAINING

top of page


Classical Ballet

1947-1953

Olga Preobrajenskaya, Studio Wacker, Paris

1949-1953

Paris Opera Ballet School: Mlle Simoni, Mlle Lamballe, and privately with Mons Peretti, Mme Rousanne

1953-1954

Legat School, England: Lydia Kyasht, Leonid Prorwitz, Mme Legat

1954-1957

Royal Ballet School, London: Miss Edwards, Michael Soames, Ursula Moreton, Peggy Van Praagh, Pamela May, Harold Turner, Harjis Plucis. And privately with Cleo Nordi


Modern Dance

1971-1975

Martha Graham School, New York: Bertram Ross Jose Limon Technique : James May Merce Cunningham Technique: Gail Kaplan, Dan Wagoner And Barbara Gardner, Larry Clark, Paul Sanasardo




PROFESSIONAL EXPERIENCE

top of page


1949-1953

Paris Opera: Participated as a Petit Rat in operatic repertoire: Otello, Romeo and Juliet, Faust, Jeanne d'Arc au Bucher, Master Singers, Les Indes Galantes Ballet choreographers: Serge Lifar, Harold Lander, Albert Aveline Opera Comique: Leonid Massine

1954-1957

Sadlers Wells Opera: Tannhauser, choreographer: Harold Turner Royal Ballet: Swan Lake, Coppelia, Sleeping Beauty, Petrouchka, Cinderella, Giselle

1957-1966

Western Theatre Ballet: Pulcinella (Pimpinella) Peter and the Wolf (Peter), Girl in a Mask (Girl) Choreographers: Peter Darrell, Elizabeth West, Wolfgang Brunner, Ronald Wilson

Old Vic: The Tempest, Choreographer: Peter Wright London Coliseum: Aladdin Choreographer: Robert Helpman BBC Television: Choreographer: Maggie Dale. Coppelia, Cinderella, Choreographer: John Cranko. Eugene Onegin, Lady and the Fool, Choreographer: Elizabeth West. Peter and the Wolf Films: The Golden Disk, Pinewood Studios. The Yellow Hat, on location, London. Choreographer: Rosella Hightower

1966-1981

Circles and Squares Dance Theatre: Program for schools (New Jersey); Dance Coop, Princeton (modern repertoire) Indiana U. Nutcracker, Cinderella, Coppelia, Giselle, Choreographer: Nicolas Beriozoff

2001

Cameo role in "Save the Last Dance" Paramount Pictures




TEACHING EXPERIENCE

top of page


1966-1972

Dance Instructor: Livingston College; The Appari School of Dance, Princeton Ballet Society. Director: Millstone Ballet School

1972-1975

Dance Instructor: Princeton Day School. Philadelphia Dance Academy. The Dance Coop. Princeton, Carrier Psychiatric Clinic

1975-1982

Associate Professor Indiana U. School of Music, Bloomington. Courses taught: Ballet, Pointe, Variations Courses developed and taught: Theory, Pedagogy, Choreographic Principles

1982-1984

Academy of Russian Classical Ballet, Louisville KY: director. Young Dancers Company: Ballet Mistress; U. of Louisville: Preparatory, College, Civic Ballet

1984-1985

Helena Movement Center, Helena, Montana

1985-1989

Faculty: School of Chicago City Ballet; Columbia College; Lehnhof School of Dance; David Puszh Studio;
Ballet Mistress: Joseph Holmes Dance Theatre; Lynda Martha Dance Company;
Substitute: Lou Conte Studio; Ruth Page Foundation

1986-1989

Faculty and Administrator: School of Chicago City Ballet

1989-1995

Director: Preparatory Dance Division, and faculty at Chicago Academy for the Arts

1986-present

Faculty, Supervisor Ballet faculty: Columbia College

1989-2003

Dance Dept. Chair: Chicago Academy for the Arts

2003-present

Faculty: Chicago Academy for the Arts




MASTER CLASSES, WORKSHOPS

top of page


1974-present

New Jersey Arts Council; Iowa U. residency;
Indiana Dance Alliance; Ballet Arts Academy (Indiana)
Culver Girls Academy; Svetlova Dance Center (Vermont)
Deer Track Performing Arts Camp (Indiana);
Montana Dance Council;
Youth Performing Arts School (Louisville);
Salt Creek Ballet (Illinois);
Mt Helena Dance Academy (Montana);
Dance Theatre of Florida;
The Royal School (Orlando);
School Chicago City Ballet (Summer Workshops); Chicago
Association of Dance Masters;
University of Texas (Austin);
American College Dance Festival: U. of Georgia (Athens); Iowa U. (Ames);
Springfield (MO)
Creative Art Center,(Montana);
Gibbs High School, Florida
National Scottish Ballet (Glasgow);
Motion Ballet Company (Bozeman);
Northbrook Dance Center (Illinois);
Ballet Madison (Wisconsin);
Dance Theatre of Florida (St Petersburg);
Dance Arts International (England);
Dance Forum Summer Workshop (Taiwan);
Dance Festival of Uruguay and National Ballet and School(Montevideo);
Dance Festival of St Louis (Missouri);
Von Heidecke Ballet (Illinois);
LeVine Ballet (St Louis);
National Tunisian Ballet;
NAADE workshops;
Texas Christian U. (Fort Worth)




CHOREOGRAPHIC EXPERIENCE

top of page


1959-1966

Western Theatre Ballet: section of Impromptu (Kabalevsky)
Cambridge Ballet Club: The Silken Ladder (Rossini)
Sunday Ballet Club: The Cycle (Hartman)


1966-1975

Circles and Squares Dance Theatre: Artistic Director and choreographer
Dance Coop: Ophelia, Childhood Images, To Isadora, Implosion, Etudinal, Jeux et Divertissements

1975-1981

Indiana U.: Piece Breve (Ibert); Aspects (Fox); Blumine (Mahler); Getting Ready (Czerny); Nutcracker, sections (Tchaikowski); Coppelia after St Leon(Delibes); Souvenir (Erb); Stratiform (Rogers-Levenberg); Robert and Clara (Schumann); Dance Suite (Rothmuller); Those Who Run and Those Who Know (Satie); Etudes (Czerny); Peregrination (Schumann); Patterns (Mahler)

Operas and Operettas: My Fair Lady, The Music Man, Naughty Marietta, Darkened City

1982-1984

Louisville Ballet: Bagatelles (Tcherepnin)
Youth Performing High School: #406 (Vivaldi)
Young Dancers Co.: Russian Dance (Folk); Before the Ball (Shostakovitch); Dancescape: Adaptation (Williams)

1985-1989

Beverley Dance Ensemble: La Ronde (Shostakovitch)
Lynda Martha Co.: More or Less (Jethro)
Columbia Dance Center: Urizen (Hawkins)
School of Chicago City Ballet: Allegretto (Bach); Ladies in Waiting (Diabelli); Graduation Ball (after Lichine);
Chicago Academy for the Arts: Delphi (Vest)

1989-present

Chicago Opera Company: Lakme (Delibes);
School of City Ballet: Plus Ca Change (Ponty); Accord (Marcel Duchamps Players); Chicago Academy: Gone Fishing (Gershwin); From the Steppes (Prokofiev); Ballero Verde (Verdi); Divertissement (Verdi); Three Is (Tchaikowsky); Parting is Such (Shubert)
Have continued to choreograph at the Chicago Academy for the Arts for the yearly Faculty Concert.




PUBLICATIONS. PROJECTS, LECTURES, PANELS

top of page


1974-2000

The Examiner: Dance is a State of Mind; Ballet, Various Works (review); IDS: The State of the Arts: Dance; Occasional Newsletter: Movement in Classical Ballet; US1; Primer, Streets: poetry; Solicited Papers: NDA, NDEA. Seminar on Slavic Culture, Russian and East European Institute, IU; Women in the Arts, Notre Dame and St Mary U. Rise of American Music Identity, U. of Chicago. Adjudicator: Dance St Louis Festival; College Dance Festival, (Texas) Presenter National Dance Education Organization: The Wisdom of Classical Ballet. (1999) : The Concepts of Jose Limon as they Manifest in Ballet Technique (2000). Workshop: Ballet from the Inside (2001).

1981

Both Sides of the Mirror, The Science and Art of Ballet, Dance Horizon, New York. (revised 2nd edition, 1990)

1983

Kentucky Premiere, magazine for the Arts, Louisville, KY, By-line

1991

From the First Plie to Mastery,an Eight Year Course, Princeton Books, 1991. 2nd edition Routledge Press 2002

1997

Getting Started in Ballet, a Parents Guide to Dance Education, Oxford University Press

2001

Produced instructional video for Princeton Books Co. Intermediate/Advanced Pointe Class. Directed production of Compact Disc "Music for Ballet Class" with pianist Olga Meyer.

2004

Ballet Beyond Tradition, Modern Dance Concept in Classical Ballet, Routledge Press, New York




ORGANIZATIONS, COMMITTEES

top of page


National Society of Arts and Letters; Dance Alliance of Indiana; New Jersey Council for the Arts, Advisory Committee; Women Affairs Advisory Committee (IU); University Committee on Women in the Arts; School of Music Council; Chicago Dance Coalition (board); Advisory Committe for Goals 2000, Dance; National Dance Education Organization. NDEO, papers presented, 1999, 2000, 2001. Chicago Dance and Music Alliance (Board). Advisory Committee for the Chicago Community Trust Dance Initiative, Director of the Dance Education Initiative




GRANTS / AWARDS

top of page


Lilly Foundations Teaching Fellowship; IREX grant for research; PCIP grant for research; Illinois Arts Foundation; Abelson Foundation. Lifetime Contribution to the Field, Chicago Dance Coalition Ruth Page Award




DEGREES

top of page


Certificat d'Etudes, Paris, 1952;

Master of Science in Ballet, Indiana University, 1981




CURRENT POSITIONS

top of page


Faculty and supervisor of ballet faculty, Columbia College

Chair of Dance Dept. at Chicago Academy for the Arts