EVENTS
HISTORY

VISITOR CENTER

HOTEL FLORENCE

DIRECTIONS

GROUPS, CLUBS & ORG'S

CLASSIFIEDS

LINKS

HOME















Click on "Pullman" to return to main page


---
"Mr. Pullman does not believe that a great manufacturing concern can meet with the highest economic and moral success where the profit is unduly large to capital, with no corresponding benefit to labor. The mutual benefit which comes from well adjusted forces is to his mind what brings the best success." -1883, Mrs. Duane Doty, The Town of Pullman

---
A Brief History of The Town of Pullman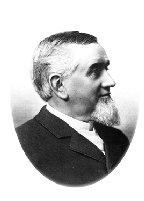 George M. Pullman


- Courtesy of the HPF (author unknown)




George M. Pullman, founder of the Pullman Palace Car Company in 1867, created the town of Pullman, the first planned model industrial town. In early 1880, George Pullman purchased nearly 4,000 acres just west of Lake Calumet and surrounding the Illinois Central Railroad, to build his model town in 1880.

Most of the town of Pullman was built between 1880-84, by architect Solon Beman and landscape architect Nathan Barrett. The center of town was the railroad car business. A clock tower dominated the large industrial complex. The housing was well constructed with many "modern" conveniences for 1880's standards such as indoor plumbing, sewage, and a gas works. The parks and streets were pleasantly landscaped. The town would not be complete without public facilities such as stores and office buildings. The Arcade building and Market hall filled this need with spaces rented to private business (not company stores as is commonly assumed). A bank, library, theatre, post office, church, parks and recreational facilities were provide as part of the town. Police protection was provided by nearby Kensington.

In 1896, Pullman was presented an award for the "Worlds Most Perfect Town". The town prospered for fourteen years until the depression of 1893-94 about the time of the worlds fair. To keep his business open, Pullman reduced wages and hours, which resulted in the famous Pullman Strike of 1894. Pullman died in 1897. In a1898 an Illinois Supreme Court ruling required the company to sell its non-industrial property. The housing was all sold by 1907 and has been privately owned every since. The City of Chicago annexed the town of Pullman along with Hyde Park Township in 1889. When the non-industrial property was sold, the rest of the parks, streets and the school system was taken over by the City of Chicago allowing Pullman to become just another neighborhood.

In 1960, the town was threatened with total demolition by developers for an industrial park. With the support of the residents, the Pullman Civic Organization was formed and defeated this plan. Through the effort of numerous Pullman residents, Pullman became a State Landmark in 1969, a National Landmark District in 1971, and a City of Chicago Landmark in 1972. Today hundreds of Pullman houses continue to undergo privately funded interior and exterior renovation and restoration.







---

Information contained in these pages is deemed reliable. BUT it is in no way guaranteed accurate. It is recommended that the telephone numbers listed be used to verify; Times, Dates, Locations, Costs, Etc. Thank you for visiting the Pullman IL site! http://tallskinny.com/Pullman