EVENTS
HISTORY
VISITOR CENTER
HOTEL FLORENCE
DIRECTIONS
GROUPS, CLUBS & ORG'S
CLASSIFIEDS
LINKS
HOME



Click on "Pullman" to return to main page


---
"The Town of Pullman possesses an interest above and beyond that of railroads and wheels. It stands related to the question how cities should be built and in general how man sould live. Young as this village is, it is answering rapidly some inquiries over which wise men have pondered from Plato to Robert Owen." -Professor David Swing, April 1883.

---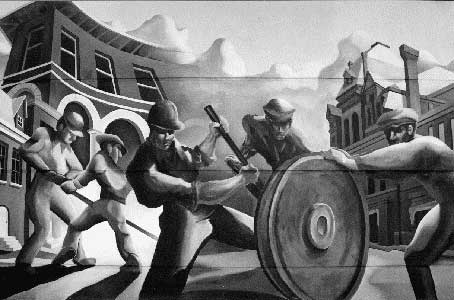 The above image is a detail from the mural designed and created by students of the American Academy of Art in 1996.
Entitled "Visual Interpretations of Pullman," and is found on the rear wall of the Pullman Visitor's Center.
A full image of the mural may be found here.


Pullman Visitor Center

11141 S. Cottage Grove Ave.
Chicago, Illinois 60628
Telephone: (773) 785-8901

NEW Hours

Tuesday - Sunday: 11:00 am - 3:00 pm
Closed Mondays and Holidays




In 1993, The Historic Pullman Foundation opened an ADA fully equipped Historic Pullman Visitor Center, an adaptive reuse of the old American Legion Hall on the site of the original Arcade Building. The visitor Center, though modern in style, provides an excellent start to the history and challenges that are Pullman. An extensive exhibit titled: Pullman... The Man, The Car, The Company, The Model Town, The Strike, The Landmark Community in Chicago and a 20 minute audio/visual presentation is offered to both group tours and individual visitors. Admission: Free to HPF Members - $ non-members






---

Information contained in these pages is deemed reliable BUT is in no way guaranteed accurate. It is recommended that the telephone numbers listed be used to verify; Times, Dates, Locations, Costs, Etc. Thanks for visiting the Pullman Community site!